AUTHOR NEWS #4
This weeks edition of news from several authors. I write this post freely and am not compensated in any form. All opinions are my own.
Carly Phillips has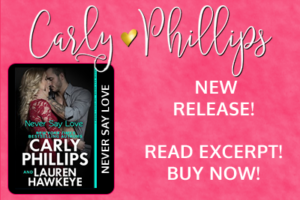 out now!! Also here is a freebie:
http://www.amazon.com/Dare-Surrender-NY-Dares-Book-ebook/dp/B00IRKQ08Q/ref=sr_1_5?s=digital-text&ie=UTF8&qid=1456273427&sr=1-5&keywords=dare+to+love+kindle+world
Steena Holmes has a sweet recipe:
Old Fashioned Pound Cake - Reader Recipe
Author: Reader - Cathy Contino
Recipe type: cake
Ingredients
For the Cake:
1 lb of butter
3 C sugar
10 eggs
4 C flour
2 tsp baking powder
1 tsp salt
1 Tablespoon vanilla or other flavoring
greased and floured tube pan
For the Icing:
½ stick of butter
1 Tablespoon vanilla
4 oz Philadelphia cream cheese
10X sugar maybe half a box (until desired consistency)
Directions
For the Cake:
Have butter and eggs at room temperature. Cream butter well. Add sugar gradually, and cream together. Add eggs one at a time. Mix flour, baking powder, and salt. Add gradually to mixture. Add vanilla/ Cook in preheated 300 ° for 1 hour 20 minutes to 1 hour 30 minutes.
Try sticking knife in at 1 hour 20 minutes if it comes out clean its done, if not continue another 10 minutes.
For the Icing:
Cream together, butter, cream cheese and vanilla until completely blended.
Add 10 x sugar until desired consistency.
Spread on thin
Read in browser »
One of her books :
http://www.amazon.com/Sweet-Memories-sweet-love-story-ebook/dp/B00EZU9I4A/ref=sr_1_1?s=books&ie=UTF8&qid=1456273969&sr=1-1&keywords=steena+holmes
Free on Kindle!
Katie French has this for .99c
http://www.amazon.com/Breeders-Young-Adult-Dystopian-Romance-ebook/dp/B008RH5MFQ/ref=as_li_ss_tl?s=digital-text&ie=UTF8&qid=1454688632&sr=1-5&linkCode=sl1&tag=katfreboo-20&linkId=cb46936546b18709ec9c0728ebe17baa
Good til Friday!!
Sky Purington has new release 2/23:
Visit her website-it is stunning!! http://www.skypurington.com/main.html
I just downloaded a whole collection of teasers from Sky's site, and read the first one-WOW-Hot, Adult content.
Theresa DaLayne has this beautiful book:
Cat Johnson has this read out now:
http://www.amazon.com/gp/product/B00Y6RB2FU/ref=as_li_ss_tl?ie=UTF8&linkCode=sl1&tag=catnews-20&linkId=2c10989efad11812c655543f801aa9f7
Gena Showalter has Firstlife out now (in case you somehow missed the news...LOL)
http://www.amazon.com/gp/product/0373211570/ref=as_li_tl?ie=UTF8&camp=1789&creative=390957&creativeASIN=0373211570&linkCode=as2&tag=genashow-20&linkId=25GUIZYAUFR4MJGI
Jaci Wheeler has a new release and free read:
This looks excellent.
http://jaciwheeler.us12.list-manage.com/track/click? u=56fc06590168e72482ff93014&id=cca4afeeb2&e=518398d60e For the free read.
Shari Lambert has contest on goodreads for her book-Borrowed Magic
https://www.goodreads.com/giveaway/show/174708-borrowed-magic
Ends 2/27
Susan Kaye Quinn has Delirium for free-when you sign up for newsletter here: http://www.susankayequinn.com/
That is all my author news for this week- I did this a bit early as some things end on Friday/Sat. Hope you enjoyed the news!!